Moderators: Darksaber, Forceflow, decoy
Posts: 1
Joined: Tue May 07, 2019 10:18 pm
HI, I am new to the mod. I recently installed the game and version 1.6 of the upgrade. It all seemed to work ok, I played the first mission through no issues but then when I got to mission two, suddenly I couldn't see my cockpit, or other ships or the targets I was supposed to be shooting. When I fire my lasers I can hear, but nothing is shown on screen. I was also running Reshade, but I disabled it to see if that was the issue but it made no difference. Has this happened to anyone else? I am running the Steam version.
---


Posts: 1287
Joined: Tue Apr 22, 2003 11:01 pm
Contact:
Moved to Soft/Harware Problems forum

I think your problem is related with Reshade, not with XWAUP...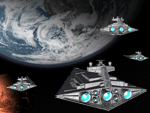 MTD industries
WIPs: REBCP version 2
---
---